muckyman wrote:

It`s huge !
ooh Mrs 
Haha, yeh it's huge lol, it is actually not a 2 pound yellow ribbed nobbler or similar, it a filament guide for the printer.

The damn printer has had more things printed for it than me lol...
Not only is it just a filament guide, it also has an in place printed ball and socket at the end, which I doubted would work well, but, it's perfect pretty much, it twists around in place inside the socket a full 360°, this would be impossible to manufacture normally.
CANNER wrote:

Whatever it is, it looks pretty good, coming straight out the printer. I remember from the beginning, when 3dprinting just started, things looking all layered and stripey needing lots of sandpapering to finish. But this thing looks ready for use.
I'm still waiting with buying a 3D printer, though it must be awesome once you figure out how it all works.
Hell yeh man, they've come a long way in a relatively short amount of time.
It takes a bit of reading to grasp it all, then dial in all the settings properly so it prints as smooth as possible.
So many parameters, but there's plenty of help, and I've got my head around most of it now.
Sanding may still be neccessary depending on your needs but the quality is pretty spot on now, check this out, it's a single Hex drawer unit, which I've grabbed from Thingyverse, and heavily modded to basically make it work and join together properly including designing and printing heavy duty brackets. It looks as if the tolerance is too fine, but I want a tight fit, these do slide apart fairly easily even though they are a very very close fit.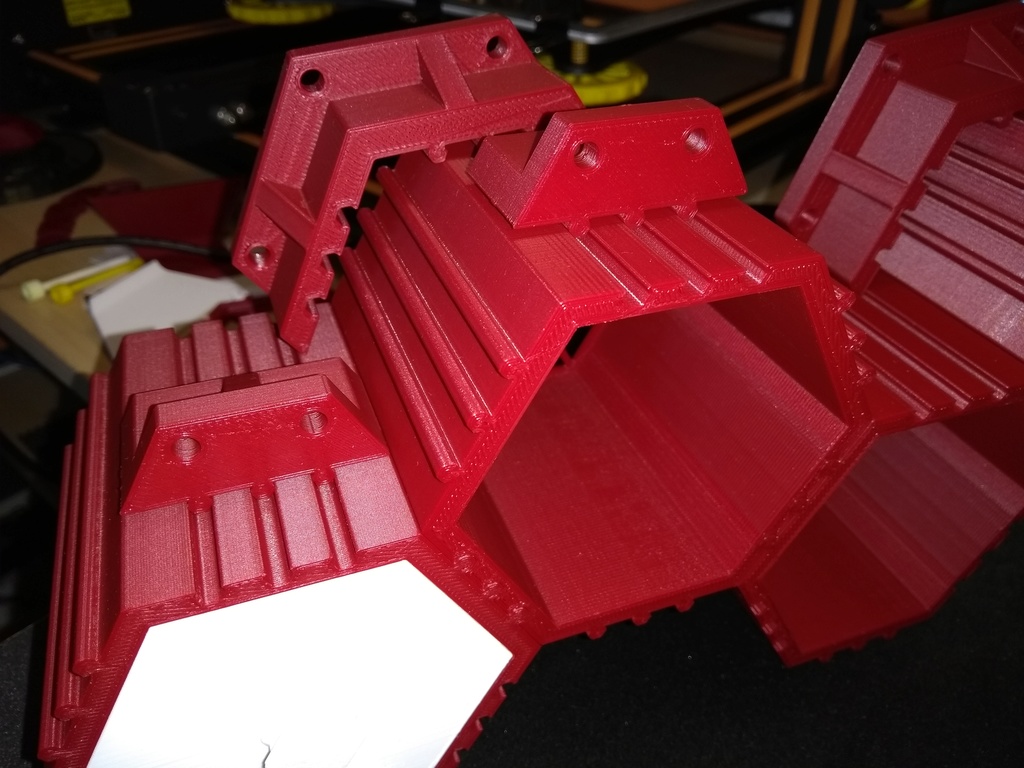 The quality of these units is superb.
You won't ever get a mirror smooth finish there is a surface texture left from the way it prints, but this texture a result of the  print resolution when it's accurately setup, this is only 0.2mm lines which you can feel when you run your fingers over it. I've designed the lugs to slide into each other with a very fine tolerance, they come out perfectly and need slight encouragement to engage together, a little more movement free it up slightly, so the final result is a snug fit so it hold itself together when on the wall...
This is for a all my hardware and bits n pieces BTW, nut bolts, screws etc, I need more for all my quad stuff, the awesome thing is the more I need th emore I simply print...

I've update my printer too with various mods to make it as accurate as possible, the main one being adding a second Vertical Z-axis screw, which is simply joined across the top of the printer with a belt, so one motor powers both sides, and pull the gantry up perfectly in synch. This also helps with maintaining a level bed for printing on, which is crucial, and must be 0.2mm away from the print  head when it starts..
As you can see from this pic I have two vertical lead worm screws, the printer only come with one on the left hand side and the right hand side is kind of dragged upwards, this works well but can cause issues if your not clear on whats going on. The yellow bits I printed out, and bought the extra worm screw, belt, pulleys etc, and now it's pulled up perfectly parrallel without having to use two motors which can go out of sync as some people use.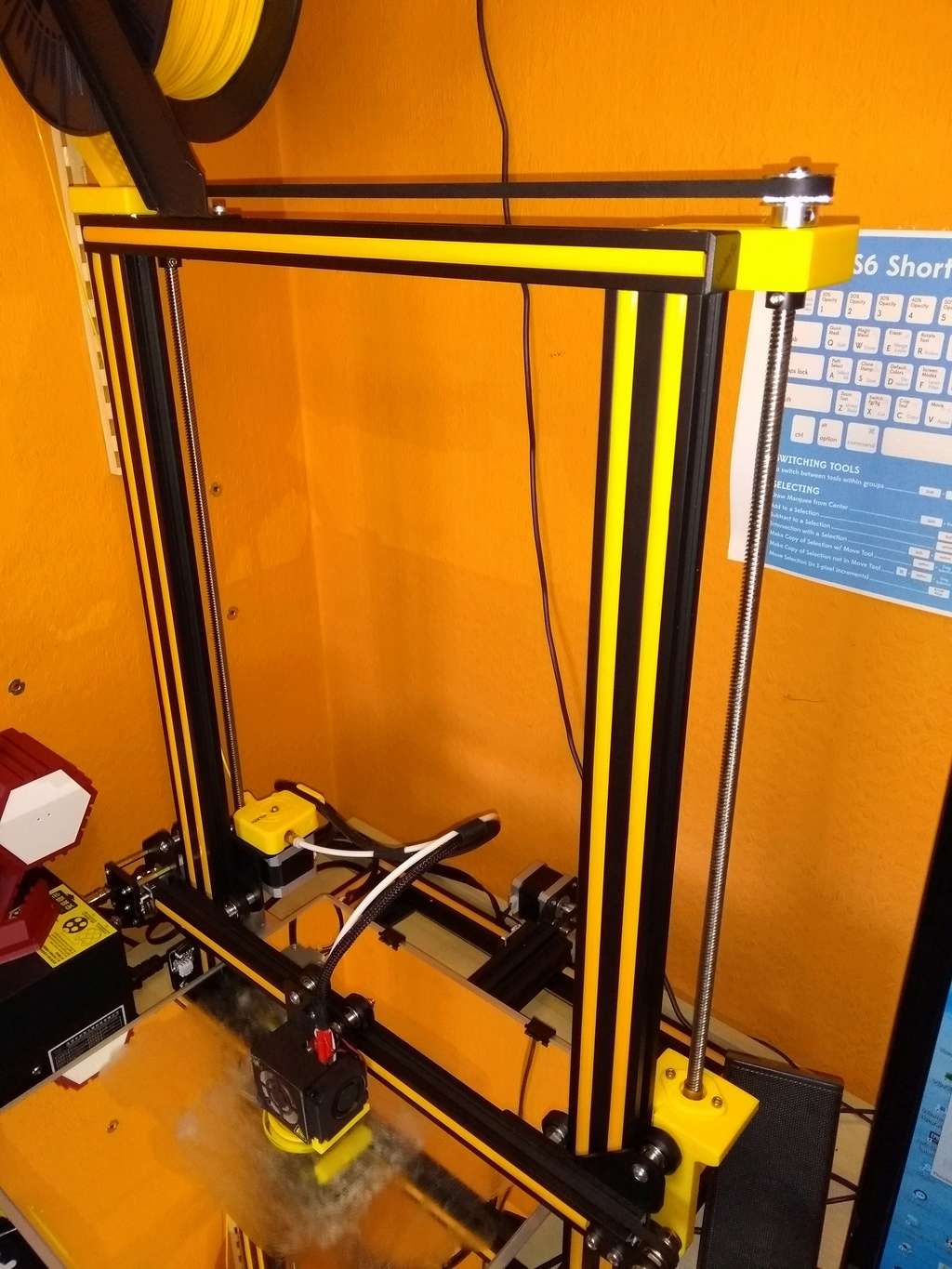 I love this thing, everything that come off it impress me, it freakin awesome!
So, yeh, sorry I've been away from forums for a while, as you can see I've been a little busy...
BTW, for the record it's a Creailty CR-10, 300mmx300mmx400mm(H), huge prints possible!!! cost around £300 ish.