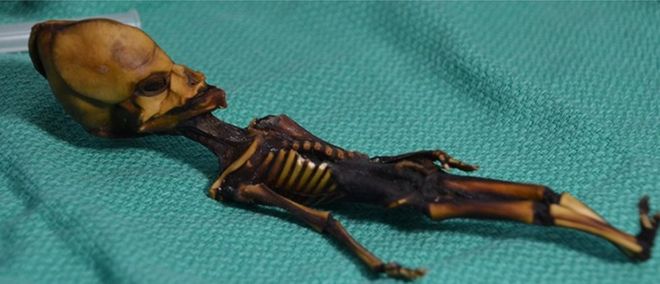 BBC.com wrote:

Tests on a six-inch-long mummified skeleton from Chile confirm that it represents the remains of a newborn with multiple mutations in key genes.
Despite being the size of a foetus, initial tests had suggested the bones were of a child aged six to eight.
These highly unusual features prompted wild speculation about its origin.
Now, DNA testing indicates that the estimated age of the bones and other anomalies may have been a result of the genetic mutations.
Details of the work have been published in the journal Genome Research.
In addition to its exceptionally small height, the skeleton had several unusual physical features, such as fewer than expected ribs and a cone-shaped head.
The remains were initially discovered in a pouch in the abandoned nitrate mining town of La Noria. From there, they found their way into a private collection in Spain.
Some wondered whether the remains, dubbed Ata after the Atacama region where they were discovered, could in fact be the remains of a non-human primate. A documentary, called Sirius, even suggested it could be evidence of alien visitations.

2Litre handed me this link to an article about the Atacama mummy. Also found another one on phys.org.
http://www.bbc.com/news/science-environment-43489246
https://medicalxpress.com/news/2018-03-once-mysterious-atacama-skeleton-illuminates-genetics.html
Conclusion: official dna research says it is a stillborn with dwarfisme/bone disease.

"But it's the first time we see this, and first time we noticed that..." blablatechnicalbla.

YEEEH RIIIGHT! 
Well, the scientists say it's human so we can go back to sleep again.

They only have human dna to compare with, any alien dna would remain unnoticed.
If this was a 'normal' genetic irregularity there should be very tiny people walking around, but there aren't. Not this small.
Even a human dwarf is still big compared to this Atacama creature.
medicalxpress.com wrote:

While esoteric, the analysis of Ata's genome points toward the clinical genetics of the future, said Atul Butte, MD, PhD, who directs ICHS and is the Priscilla Chan and Mark Zuckerberg Distinguished Professor at UCSF.
Hmmmmm, Zuckerberg. Go figure...

Did they find some new (possible alien) dna mutation thing they can make lots of money with?

My guess is it could be an alien hybrid baby that failed somehow.
So many stories of aliens impregnating women and removing half finished babies.
Maybe the pregnancy went wrong and this half human thing came out.